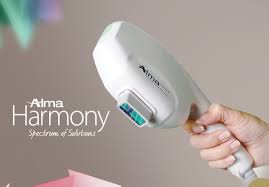 ALMA HARMONY – LIFTING WITHOUT A SCALPEL + VESSEL CLOSING, PHOTOREJUVENATION
Lifting using Alma Harmony with an NIR head is a non-invasive, safe procedure that allows you to clearly rejuvenate the skin without resorting to surgical methods.
Infrared light technology, evenly introduces high temperature to the deep layers of the dermis (40 – 44 degrees Celsius), resulting in shortening of collagen fibers and stimulation to produce new ones.
The treated skin thickens, improves its appearance and elasticity. The long-term effect of the treatment is stimulation of fibroblasts for the production of new collagen fibers, which causes a clear skin tension, raising the oval and reducing the so-called hamsters.
The treatment is safe, pleasant, the skin after the treatment is slightly red, which disappears within a few hours.
INDICATIONS:
– loss of skin firmness of the face, neck
– improvement of the face oval
– loss of firmness on selected parts of the body (skin above the knees, flaccid skin of the arms, thighs)
– anti-aging treatment performed preventively.
ALMA HARMONY – FACIAL CLEANSING, REMOVAL OF DISColoration, PHOTOREJUVENATION
Alma harmony, Dye VL head. A safe and very effective way to get rid of skin erythema, dilated vessels on the face, pigmentation spots and all signs of photoaging. The treatment is great prevention for shallow vascularized, sensitive and prone to erythema skin.
The Dye-Vl head allows for effective and safe removal of vascular lesions and pigmentation disorders. In addition, comfort during the procedure is increased due to the use of a unique cooling tip connected directly to the treatment head.
The effectiveness of treatments using the Dye-VL head has been clinically proven.
The treatments are completely safe for patients, effective, practically not requiring a recovery period.
INDICATIONS:
– vascular lesions
– rosacea
– flat hemangiomas
– disorders of skin pigmentation (discoloration)
– flaccid skin.
Author: Katarzyna Jermakowicz- Nogano, cosmetologist.